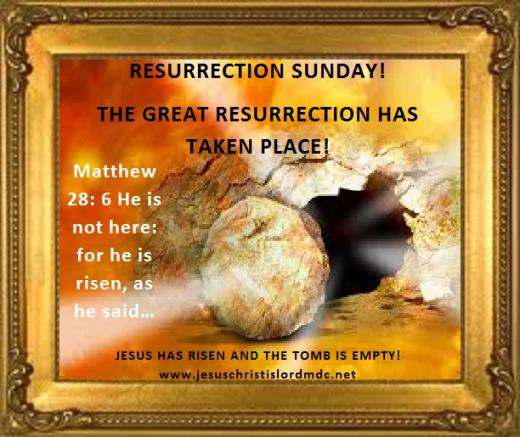 THE GREAT RESURRECTION HAS TAKEN PLACE!
Matthew 28: 6 He is not here: for he is risen, as he said…
JESUS HAS RISEN AND THE TOMB IS EMPTY! HE IS ALIVE with POWER and VICTORY over hell, death and the grave! Death could not hold His body down. The grave could not contain Him! He arose the victor from the dark domain and He lives forever with the saints to reign!!!
Yes, He arose with your healing, deliverance, restoration, and salvation! He has taken the sting out of death and put a lock on the doors of hell! Jesus is the way, the truth and the light. No man can come unto God, except through Jesus! Accept him and rejoice in the joy of your salvation. God be praised!
HE IS RISEN!
Luke 24
1 But on the first day of the week, at early dawn, they came to the tomb bringing the spices which they had prepared.
2 And they found the stone rolled away from the tomb,
3 but when they entered, they did not find the body of the Lord Jesus.…
Aren't you glad that Jesus is alive?
And it is so.. Agape!